High Academic Ambition
Curriculum
Our curriculum introduces learners to the best knowledge we as a society have. High academic ambition is a driver and guarantor of equity, giving every learner what they need to be successful in life and taking them beyond their own experience.
Through the curriculum, we engender and inspire an appreciation of human creativity and achievement. Our curriculum is wholly inclusive, access is never limited on grounds of perceived ability, ethnicity, class, gender or indeed any other thing!
St. Crispin's curriculum design is firmly rooted in the national curriculum. There is active rejection of impoverishing the curriculum. There is no rotation of subjects nor a shortening of KS3 which is Years 7 to 9.
The taught curriculum is enhanced by a vibrant set of enrichment activities beyond the classroom. St. Crispin's has a strong tradition of educational visits to inspire the love of learning and deepen learning by providing students with memorable learning experiences. Through a supportive environment, the school is concerned not only to develop the academic aspect of each student to reach their potential, but also to encourage students to be well rounded. The school will encourage the development of good personal relationships, social responsibility and citizenship both through the curriculum and through the ethos of the school.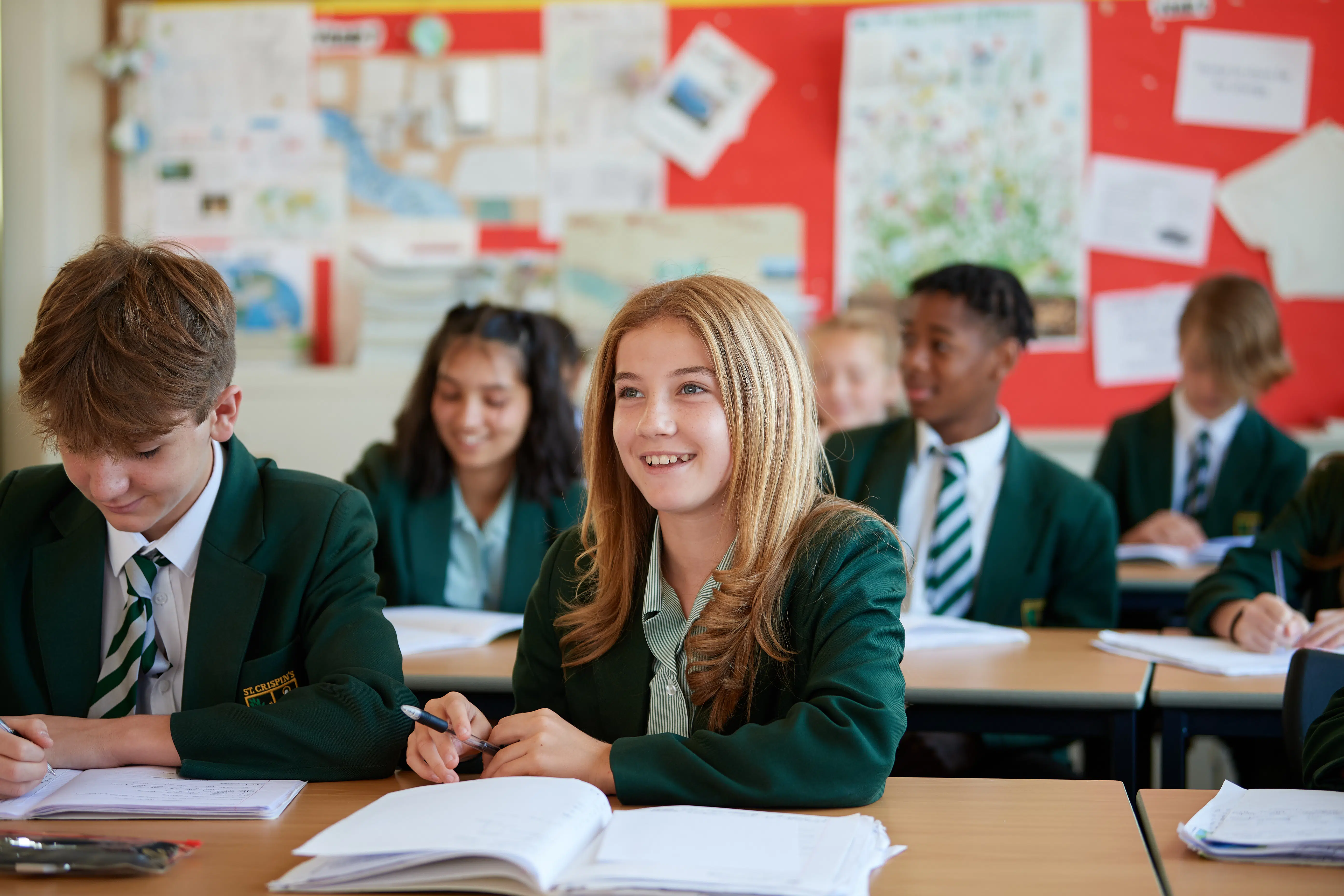 Through our curriculum, St. Crispin's aims for students to develop into resilient and curious learners, to be confident and communicative with others and to be reflective individuals, so that they can successfully enter the world of work.
The curriculum provides a range of opportunities where the most able students can excel and be able to achieve entry to the most prestigious universities in the country. The curriculum also allows students to undertake a variety of courses to reach their potential in the work of work. Our curriculum is well suited for our students to enter the local jobs market. Berkshire has a diverse economy but has some of the highest concentration of information technology, finance and retail jobs in the country. From interactions with local businesses and the Thames Valley Berkshire Local Enterprise Partnership, we encourage students to develop skills that suit these roles including communication, planning, organisation, flexibility and an understanding of the importance of detail.
Students at KS4 take 9 GCSEs allowing space in the curriculum for increased physical activity and attention to wellbeing in support of health. Academic demand is strong and well balanced with students taking qualifications that interest and motivate them. The EBacc combination of subjects is strongly guided/encouraged to follow.
A student's lessons are organised over a fortnight with a different week A and week B timetable. There are five one-hour lessons per day (25 per week). In Year 7 to 9 students are assessed through 'steps'; at Key Stage Four students are assessed through GCSE grades (9 to 1) and Technical Awards (Distinction* to Pass); at Post 16 students are assessed through A Level grades (A* to E) and Technical Awards (Distinction* to Pass). During the course of the year, we will send out three reports to parents/carers, one report per term. These reports will contain the current attainment and end of year targets for each subject. Scores are also given for attitude to learning, motivation and organisation, behaviour for learning and quality of classwork and homework.
Our curriculum is ambitious and wholly reflective of the school's vision statement
"Excellence for all, in all"